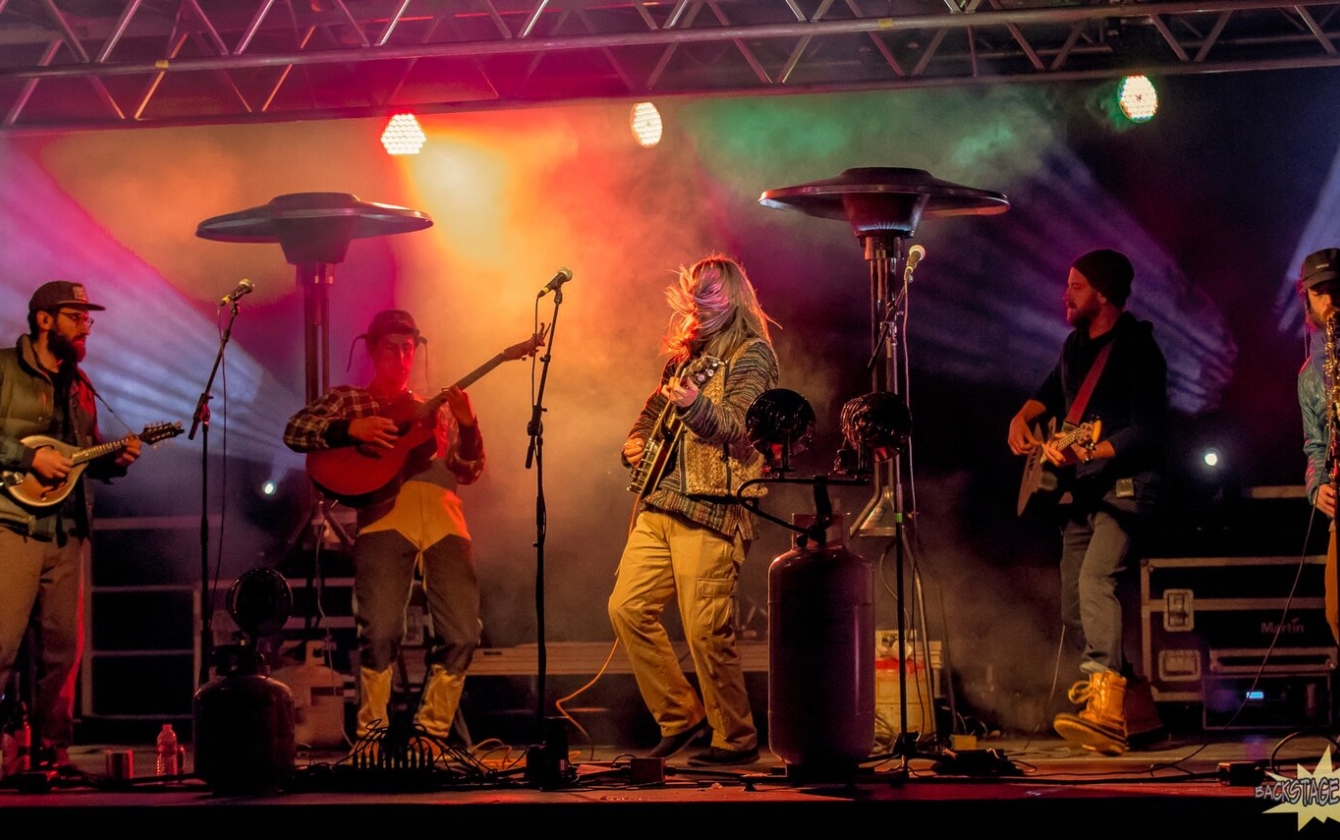 Drive and Jive 2020 - A Brother's Fountain and FY5
Written and Photographed By Michael Emanuele of Backstage Flash
10.27.21 The Drive and Jive concert series came to an end last night as winter is now upon us. It has been an incredible five months of community strenth during these strange and difficult times. Sixty bands have played since opening night in June and the Holiday Twin has provided Fort Collins with a magnificent backdrop for our local musicians. The Bohemian Foundation and all of the sponsors involved came together to make this event happen. Thank you to the staff, volunteers, and musicians for helping to keep our musical culture alive and well.
A Brothers Fountain kicked off the evening. They are an eclectic bunch with an eclectic array of instruments. Let's just say they have the string thing down. Folk inspired, and very diverse the music has a traditional jam vibe. With such a large band comes many influences and styles. They weave genres together effortlessly, combining bluegrass, folk rock and reggae along with incredible musicianship and a passion for their craft. The songwriting includes stories of travel, truth, faith and spiritual introspective. They are truly great friends and that energy and love pours out from the stage. It was a vey refreshing and fun set.
FY5 closed the music series in fine fashion. Classic, contemporary roots music is what you get with this band. Lyrically skillful, musically masterful and soulful heartfelt delivery is all on tap. Folk, bluegrass and country swing are all timeless styles of music. FY5 brings new life into these incredible genres of our past and present. Veterans of the Colorado music scene, this band runs deep with experience. Life on the road and the circumstances that it presents evolve into well crafted compositions. The music has a rich quality, the harmonies are beautiful and lyrically the music is a true as it gets.